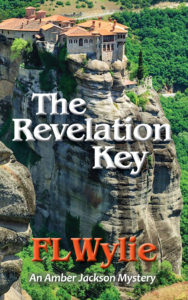 By Faith Wylie
I will give away ebook copies of my mystery novel, "The Revelation Key," Sept. 22-24 on Amazon.com. My goal is to give away at least 400 copies.
I wouldn't have been alive to finish this novel without outstanding care and support from medical teams, family, friends, coworkers and prayer partners. That's why I want to celebrate the fourth anniversary of my stem cell transplant with readers.
Here are my reflections on my cancer journey:
Death was never my fear with cancer. I feared missing a production deadline for our community newspaper.
The brain surgeon removed a tumor that had tripled from golf to tennis ball size in just three weeks. After the surgery, he told my family I might not survive. They feared my death.
Perhaps if I had been wiser or more alert, I would have joined in their fear.
I was diagnosed with stage IV lymphoma five years ago (Sept. 2013) and received my stem cell transplant four years ago (Sept. 2014).
Continuing my job forced me to be active and not sink into self-pity.
My husband and I owned the Oologah Lake Leader. I served as the production department, the final step before the paper goes to the printer. In order to keep a periodicals postal permit and publish legal notices, a newspaper cannot miss more than two issues in a year. We always took a week off for Christmas.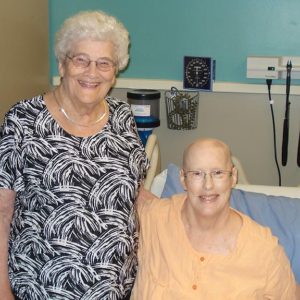 We had no choice but to publish each week.
My novel, "The Revelation Key," needed a final write-through and proofreading. It went on hold.
I had brain surgery the day before Thanksgiving.
The brain tumor had eaten parts of my skull, orbital bone for my eye socket and started into my brain. My left eye pointed at crazy angle; that side of my face was numb. I could barely speak, let alone think.
Seven days after surgery, I produced a 12-page issue. Looking back, I'm amazed at how good it looked.
The next week offered a new challenge—I gasped for breath. By Monday night, I was back in the hospital. Carolyn, our news editor, braved the snow storm Tuesday to bring the production computer to my hospital room. I laid out the pages between X-rays and getting my lungs drained.
Someone came and rescued me after the staff got the papers in the mail on Wednesday.
We got into a routine. Newspaper work on Monday, Tuesday and Wednesday. Chemo every third Thursday and Friday.
Three months after the surgery, I was allowed to drive again, albeit with only one working eye.
After six sessions of chemo, I celebrated.
The newspaper hosted a reception for our news editor, my husband and I, all inducted into the Oklahoma Journalism Hall of Fame.
But then the test results came back—I still had cancer.
Dr. George Selby and his team at OU Medical Center accepted me as a patient. After three crazy months of chemo, stem cell harvest and radioactive injections, I was ready for my stem cell transplant.
The procedure and recovery is grueling, but I made it through.
My team never gave up on me.
The cancer experts in Tulsa took me as far as they could. When traditional chemotherapy and radiation did not kill the beast, they referred me to the Stephenson Cancer Institute. Additional chemo, radiation injections and finally a stem cell transplant stopped the lymphoma.

My family and friends were awesome. My sister Dawn took me to most chemo sessions. My son James flew in from D.C. several times. He and my husband stayed with me for six weeks in Oklahoma City during the stem cell transplant process.

Carolyn and the rest of our staff took on additional duties; our readers were patient and supportive. The Bartlesville newspaper provided production services during my stay at the Bone Marrow Transplant Unit.

My church family and so many more prayed for me, provided meals and even planted my flower gardens when I was banned from digging in dirt.
The newspaper kept me busy until we sold it last year.
After my cancer scare was over, I realized how close to death I had been. I swore that I would publish my novel by the end of 2017.
And I did—with 15 days to spare.