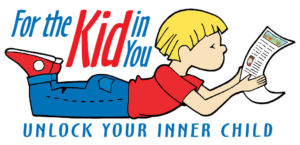 For the Kid in You is a weekly newspaper feature designed for families or classrooms to encourage young people to engage in the news and become active citizens.
Each quarter-page feature includes an article, a game and an activity.
It was created by Carolyn Estes and John and Faith Wylie for the Newspaper in Education program at the Oologah Lake Leader. Other newspapers quickly asked to use it and a syndicated feature was born. It is now published through Wylie Communications Inc.
Here is a recent sample of our feature: