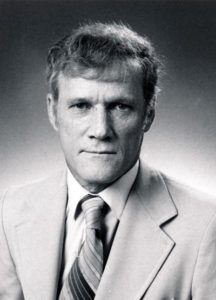 By John M. Wylie II
Windsor Ridenour, The Tulsa Tribune's last executive editor, past Oklahoma APME president and an Oklahoma journalism legend, died Thursday at age 80.
His service was set for 10 a.m. Friday, Sept. 6, at the First United Methodist Church in Skiatook, Okla.
Ridenour, a Skiatook native, earned his journalism degree from Oklahoma State University in 1964, followed by a stint at The San Diego Union as a reporter before starting his 28-year career at The Tribune as a reporter in 1965.
He served as Oklahoma City bureau chief, was promoted to city editor in 1973, assistant managing editor in 1982, managing editor a year later, and executive editor in 1989. He held that position until the newspaper ceased publication in October 1992 when its joint operating with its fierce rival, the morning Tulsa World, was not renewed.
During his tenure in senior management, he promoted female staff into top positions. When he was named executive editor, the managing editor post was split—city editor Pearl Wittkopp was promoted to managing editor news and well-known investigative journalist Mary Hargrove took the post of managing editor for special projects.
During his long tenure at The Tribune, every position he held involved investigative and in-depth reporting that had statewide impact and earned the Tribune countless honors. Among them was a three-month investigation of the state's prison system and coverage of Oklahoma City's Penn Square Bank collapse.
"He did do a series over riots in McAlester (at the Oklahoma State Penitentiary), and the inmates would all talk to him because he wasn't afraid to go up to the fence and talk to them," Rob Ridenour, his son, said in a Tulsa World obituary. "And so they'd tell him the stories about what was really going on in the prison."
Lindel Hutson, who was Associated Press bureau chief for Oklahoma from 1989-2009, told Connecting:
"Windsor was a driving force behind the great work the Tribune did all those years. AP holds a contest for state newspapers annually, and Windsor and the Tribune cleaned up.
"He was fanatic about seeing that the Tribune was ahead. He would call us to make sure he had the latest updates for his afternoon and evening readers. Windsor was not shy about calling me to complain if he thought AP was moving too slow on a story.
"And he was very competitive with the Tulsa World. They shared the same building and the same presses.
"It is ironic that Bob Haring, executive editor of the World and Windsor's chief competitor, would die within days of each other. Bob died on Aug. 24, and Windsor on Aug. 29.
"Windsor had served as president of Oklahoma Associated Press Managing Editors, the umbrella group of senior editors who advised the AP and was responsible for its annual meetings and contests.
"My first APME meeting was in Tulsa and Windsor chaired it. It was a fantastic meeting and had as the banquet speaker none other than Abigail Van Buren, the original Dear Abby, whose column was prominent in those days.
"Dear Abby would not have been here if not for Windsor. His powers of persuasion were legend.
"Windsor also had a knack for finding talent. He brought many excellent young journalists to the Tribune. After the paper folded, many of them scattered around the country, and some were hired by the World.
"One of Windsor's hires was Kelly Kurt, who I brought to the AP. She did spectacular work and spent many years as AP's Tulsa correspondent."
The Oklahoma Journalism Hall of Fame awarded Ridenour a special honor Aug. 21, 1992–six weeks before the Tribune's scheduled closure–for 27 years of outstanding service in journalism. It was only the second time in the Hall's history it had bestowed such an award.
Harry Heath, former director of the Oklahoma State University School of Journalism and Ridenour's former instructor, presented the award.
"The greatest satisfaction any teacher can get is to see a student become a success," Heath said. "He was always a leader and it shows in the way he has been involved in bringing some extremely talented staff to The Tribune."
"He's a pretty tough person, not afraid of anything or anybody," said friend and former journalist Mandell Matheson about the honoree at the time. "He's such a hard-headed newshound that nothing scares him."
Howard Barnett, president of The Tulsa Tribune Co., said then, "Windsor has been the driving force in the newsroom. He has strengthened the reporting and been responsible for many of the physical improvements in the paper. The award is clearly well-deserved because of his contributions to journalism and the state of Oklahoma."
It was noted in the award announcement that Ridenour he led the team of reporters who conducted a three-month investigation of the state's prison system, producing the 1983 series, "Riots to Riches." It claimed that year's Associated Press Sweepstakes Award.
Jim Gipson, state editor of the Tribune during much of the Ridenour era, said the newspaper was blessed by its publisher with the ability to produce excellence and a work environment that encouraged loyalty and a sense of humor in the newsroom.
"It started at the top with Jenkin Lloyd Jones, a very rare publisher. He made money in order to publish a newspaper. Not the other way around," Gipson told Connecting. Jones passed away Feb. 24, 2004.
In 1994, Ridenour was the Democratic nominee to succeed the powerful state Senator Robert V. Cullison, who was retiring. He won a hotly contested Democratic primary and runoff, the latter with 54% of the vote.
He also earned a glowing endorsement from the Tulsa World, his and the Tribune's onetime bitter rival, over his Republican opponent, four-term State Rep. Grover Campbell.
"Based on Ridenour's 30 years as a reporter and editor during which he covered all levels of government including the state Capitol, and Campbell's lackluster record in the House, Ridenour is the obvious choice," the World editorial said.
"Ridenour as a reporter and editor has long championed better public schools and reform of Oklahoma's inefficient and often corrupt county government…There is just one choice for voters who want a senator who will workfor sensible change and progress in Oklahoma: Windsor Ridenour."
But 1994 was a bad year for Democrats as the state was rapidly turning from yellow dog Democratic to increasingly Republican. The GOP's Frank Keating won the governorship with 46.9% of the vote to 29.6% for Democratic powerhouse Jack Mildren, the Lt. Governor and a University of Oklahoma football All American nicknamed the "Godfather of the wishbone." Normally that is a sure ticket to political success in Oklahoma, as witnessed by Mildren's May 2008 obituary which began, "Former Oklahoma quarterback and Lt. Gov. Jack Mildren died on Thursday." The spoiler in the race was Wes Watkins, a Democratic Congressman who ran as an independent, lost, but returned to Congress as a Republican.
It also was the year when Republicans swept the US House, including the perpetual Democratic stronghold of the Second District where Republican Dr. Tom Coburn, with no previous political experience, took the seat that led him to the US Senate and national political prominence. One county of that istrict was in the district Ridenhour sought to serve, and the other two were just across the county line from it.
Even worse, Keating was at the top of the ticket, which means straight-party voting impacted all other showings—and 76.9% of the votes in Ridenour's race came from Tulsa County, where Keating won with 60% of the vote. Campbell defeated Ridenour 59%-41%, but retired after two terms.
The World obituary noted that Ridenour started at the Tribune as a police reporter and within his first month had made a headline of his own, helping capture a bank robber while pursuing a story. He was dubbed by a columnist "the red-headed boy wonder" and went on to put his stamp on the crime beat, tracking down some of the most vicious criminals and winning exclusive interviews.
As an editor, Ridenour could be intimidating, especially to younger reporters. But if he was tough on them at times, it was with purpose.
"To hire some young kids right out of school and see in them that gut drive to be a reporter, then see them blossom … and develop that sense of commitment to their readers — that has made it all worthwhile," Ridenour said when reflecting on his career in 1992.
Pearl Wittkopp Garrison, who served in many editorial roles under Ridenour, said he was a driven and strong editor with little tolerance for ineptness.
"You either became stronger as you worked there or you didn't work there long," she said. "He had a sense of humor and kept things lively at the newspaper, which wasn't easy because you started at 6 a.m."
At the time of its closing, the Tribune was one of only a handful of remaining metropolitan afternoon daily papers in the Midwest.
Ridenour said then that he hoped it would be remembered by Tulsans as "a caring newspaper, sensitive to the community and fearless in our attempts to expose what needed to be exposed."
Besides APME, he also was past president of the Tulsa Press Club, an institution that has survived the changes in the journalism world that shuttered such institutions in other cities. It remains, as it always has, in a historic downtown building as the anchor non-hotel ground floor tenant of the Atlas Life Building, now a luxury Marriott brand hotel.
Ridenour was born Sept. 21, 1938 to Robert Warren and Juanita Mae (DeShazer) Ridenour in Skiatook. He was married for 53 years to Mary Kathryn Cummings Ridenour who passed away Jan. 1, 2011. Windsor said in her obituary that they met as teenagers when both were on double dates with other people. He noticed Kathryn and remarked to a friend, "That's the girl I will marry."
He is survived by son Rob Ridenour and his wife Suzann Ridenour; daughter Rebeccah Emberson and her husband Randy Emberson; eight grandchildren; and seven great-grandchildren.