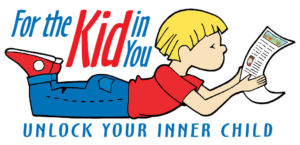 By Faith Wylie
Originally written for "For the Kid in You" week of 9-22-19
I spoke to the GFWC women's club in Nowata on Tuesday. Of all my writings, they reacted most strongly to this week's Kid feature. I had promised the Kid readers more information about Betty "Tack" Blake. I'll lead with that, then follow with the story from the Kid.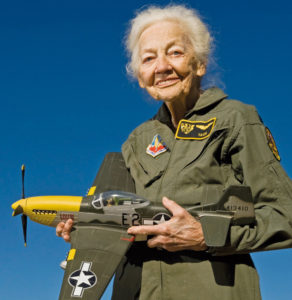 Betty "Tack" Blake
Betty, age 21, and her fiance were enjoying a beautiful Sunday morning when Japan attacked Pearl Harbor on Dec. 7, 1941. Betty was a commercial pilot in Hawaii. Her future husband, Robert Tackaberry, was a naval officer on the USS California and watched his shipmates go down in the attack.
Betty was recruited for the Women Airforce Service Pilots, one of its original class. She flew 36 types of aircraft during her service in World War II. Her favorite was the P-51 Mustang.
Her second husband was USAF pilot George Blake.  Their three sons all became pilots. She died in 2015, the last surviving member of that first training class.
World War Two's Secret Pilots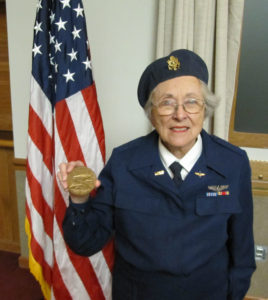 More than 1,000 pilots flew missions for the United States during World War II. Thirty-eight were killed, but they had no military status. Congress shunned them and their records were sealed.
These secret pilots are now our grandmothers and great grandmothers.
What was World War II? Japan attacked its neighbors in the Pacific, while Nazi Germany overran much of Europe.
Dec. 7, 1941 a sneak Japanese bombing attack on the U.S. naval base at Pearl Harbor, Hawaii killed 2,403 and decimated the Pacific Fleet. America's desperate fight to save democracy required massive U.S. manpower. That's when woman-power stepped into our factories and the cockpits of our airplanes.
The Women Airforce Service Pilots started with a team of experienced pilots, who recruited more female pilots for non-combat missions.
The team, called WASP:
• Flight-tested new airplanes at the factories and delivered them to military bases.
• Trained military pilots on proper procedures in the new planes, including B-29 bombers and P-15 Mustangs.
• Towed gunnery targets in live-fire training for military pilots.
• Flight-tested repaired aircraft to make sure they were safe for the military.
• Transported equipment and people.
WASP flew about 60 million miles and served more than 120 bases during the war. The squadron was deactivated Dec. 20, 1944 without any military benefits.
In 1977, Congress granted WASP members veteran status. Women gained the right to fly combat missions in 1991.
To learn more, visit the WASP museum in Sweetwater, Texas or waspmuseum.org.