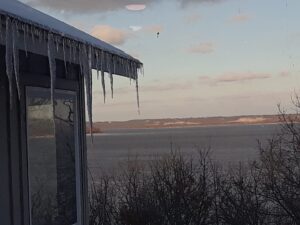 From Christmas Eve, 2003
Each day grows shorter, darker, and colder. Our world turns brown and gray: brown grass, brown leaves, gray sky, gray lake, gray rain.
How do we bear the growing gloom of December days?
Spurred by advertising, Christmas grabs our attention.
Early sunsets mean more time to enjoy Christmas lights in our neighborhood. Each evening as I drive home from work, another bejeweled home twinkles through the darkness.
With holiday preparations and festivities, we don't focus on the coming winter.
After Christmas, we are on the home stretch. Each day is a few minutes longer following the winter solstice on Dec. 21. The weather gets colder, but it's more likely to be crisp and dry instead of gray and rainy. In just five or six weeks, crocus will peek through the dead leaves, bringing hope of spring.
Some scholars believe that Jesus wasn't born in December. They cite the passage in Luke about "shepherds living in the fields, keeping watch over their flock by night." It would be too cold to sleep in the fields, they say.
But I'm grateful that Christmas ended up in December. It seems only right.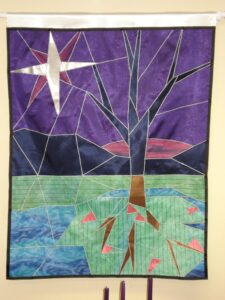 Isaiah wrote "The people who walk in darkness have seen a great light; those who lived in a land of deep darkness – on them light has shined."
How appropriate that the celebration of the light of the world comes at winter's darkest moment.
John tells us, "The light shines in the darkness, and the darkness did not overcome it."
Some people are skeptical of jailhouse conversions and other sinners who have "found God." But I think those events show human nature. We don't think we need God when everything is going well. We wait until a dark hour before we seek the light.
The true test, though, comes later. Will the jailhouse conversion hold up once the prisoner is free to rejoin society with all its temptations?
Will we stay focused on the light after the storm is over?
Christmas is a baby step on our spiritual walk – just adore the Christ child. Later we are called to take up our cross and follow.
Tonight, though, we simply enjoy the light that has dispelled the darkness.