By JOHN M. WYLIE II
It wouldn't be Thanksgiving or Christmas or any other special occasion without hearng everyone from Perry Como to the Carpenters singing:
Oh, there's no place like the home for the holidays,
'Cause no matter how far away you roam,
When you pine for the sunshine of a friendly gaze,
For the holidays you can't beat home, sweet home.
We have to wonder how much longer that tradition will last, because today to many of us have the same question—in our modern, mobile society, "Where is home?" is a very real question.
The New Yorker recently wrote about the Sioux County, Iowa county seat of Orange City—a community of almost entirely Dutch heritage with Americanized Dutch customs and traditions which included many families where generations were born, lived almost their entire lives and died there.
That's not true for the rest of us.
My mother was a Kansas Citian who went to college at Northwestern University in Chicago before going on the air at KIDO Radio in Boise, Idaho. There she met and fell in love with my father, a product of Fargo, North Dakota.
They moved to Los Angeles, the Hollywood area to be precise, because they were part of the transition from network radio to network television, and I was born in Santa Monica.
My father died when I was a tot, and my mother returned to Kansas City, where I was raised.
So where is my original home? Boise, where it all started when my mother and father met, even though I've never been there? Fargo, where I've also never been? Hollywood, Los Angeles or Santa Monica, where I lived for a couple of years but have only visited a few times since for a grand total of three days—even though my passport lists that as my hometown.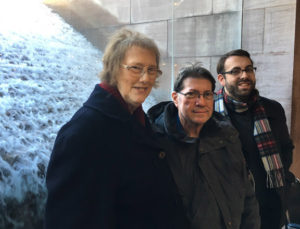 Kansas City has a bigger claim—I was there from ages 2-18, back after college from ages 22-31while at The Kansas City Star. When they write my obituary they'll say I met the love of my life, Faith Lubben, in 1971 in a Kansas City suburb where her mother and other family still live.
But from age 31 until now, although we visit Kansas City often, home has been Oologah—as of now, for 34 years of our lives. So it has a big claim on being home.
However, Grinnell, Iowa is, as I often tell people who never heard of it, where I go to recharge my batteries mentally, intellectually and in terms of culture both philosophical and visual.
It is home to Grinnell College, where I really became who I am today and where my extended family comes together whenever we can. (Our class reunion, normally every five years, falls on a 7-year cycle this time so we're planning a pure '75 reaction—a rump reunion of our special branch of the family because our kin from '72-'79 will all be on campus.) So it has a strong claim on being home, too.
So what am I—a Californian, as it says on my passport and birth certificate; a Kansan or Missourian since I lived on both sides of the Kansas City metroplex; an Iowan, or an Oklahoman (where I've lived the longest).
Ah, but in few months, we'll have had another claimant for the honor of home for a decade—the Washington, DC area. That's because James Wilder Wylie and Alice Holton-Wylie married in Santa Fe in 2008 and have been in the Tacoma Park neighborhood of DC or University Park, Maryland ever since.
Alison's family moved from Texas to Maryland so this year we had James and Alison i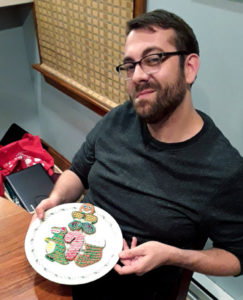 n Oologah for the November holidays, a with a trip to Kansas City for the three days of Thanksgiving (fasting Wednesday, gorging Thursday, and decompressing Friday).
For Christmas, we all gathered at James-and-Alison's century-old house that for the second year in a row is our home for those holidays. Alison's parents hosted us for Christmas Eve dinner and church service.
So where is home these days? That's a tough one.
For us, home isn't a place any more, it is where the people we love are. And they are literally scattered from New Hampshire to Minnesota to California and everywhere in between.
Bing and the Carpenters are no longer performing except on recordings, and it sounds as if the song needs updating. We just haven't figured out the new title or chorus yet.