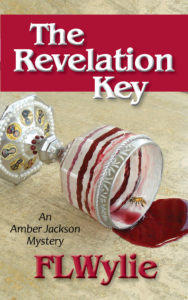 Can studying the past trigger a murder?
Description
Last semester was hell for art history student Amber Jackson. Her mentor/uncle died from bee stings, her boyfriend dumped her, and she failed Greek, putting grad school at risk. She joins a team in Athens studying Early Christian art and manuscripts. After she finds an old goblet left by her uncle, someone tries to kill her. She faces hell worse than what she left. Can she find the key to the Book of Revelation, rip the veil from whoever is sabotaging their work, and find her uncle's murderer?
Images of Hell confronted me as I entered a monastery chapel at Meteora, Greece. That dichotomy inspired me to try fiction writing. My essays, news stories and photographs received state, national and international honors during 33 years of publishing a nationally known community newspaper. I hope you enjoy reading "The Revelation Key'" as much as I enjoyed researching and writing it. For the details behind the story—including what's fact and what's fiction—visit wyliecom.com.
What was the hardest part of writing this work?
My biggest challenge was finding a theme in Middle Byzantine art that linked with a new interpretation for the Book of Revelation. When I discovered Constantine VII Purple-born, it all clicked. The Eastern Roman Emperor was an author, scholar and artist—and the heart of the Macedonian Renaissance.
What draws you to this genre?
"Who did it?" draws me in as I become acquainted with the protagonist in the quest for truth and justice. I join the team as I turn pages late into the night. Strong women, exotic locations and quirky characters make mysteries a great read.
Tell us about the cover and the inspiration for it.
The bee and chalice link the present-day murder with the history that motivated it. Imagining and making Constantine VII's chalice was a labor of love. His son, who ruled five years, has an ornate chalice displayed in Venice. An emperor who ruled 46 years surely had his own chalice.
Please keep in touch at www.RevelationKey.com or Facebook @FLWylie.