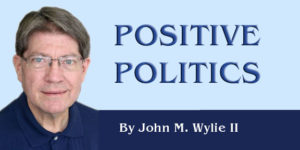 Political junkies like to talk about the 800-pound gorilla in the room when they analyze an upcoming election.
They got way more than they bargained for with Tuesday's Oklahoma Primary. There are enough gorillas to sink most cargo ships.
Basic ground rules for voting
First, this is the first open primary in ages—if you are a registered Independent, you may ask for a Democratic primary election ballot. Republican and Libertarian primaries are closed, with only registered party members allowed to vote.
However, all registered voters are allowed to vote on by far the biggest Gorilla in the room, SQ 788 which would allow medical use of marijuana with a doctor's permission.
Independents can also vote on any county or local questions affecting the location where they are registered, and in all judicial races (which are non-partisan).
There are three countywide questions on the Rogers County ballot: one to renew the 13/16th of a cent sales tax for county roads, one to renew the 1/8th of a cent sales tax to continue or possibly complete paying off the Material Services Corp. judgment against the county stemming from a decades-old legal dispute, and the third to levy a 1/16th cent sales tax for public safety (specifically designated for the Rogers County Sheriff's Department.) All renewals would be for five years, and the total tax would be the same as residents and shoppers have paid for over a decade.
And if you are voting in any party primary, you're going to have a record number of choices—Republicans have 10 choices for governor, Democrats have four for Corporation Commission, three candidates in State House District 23 and primaries in the vast majority of state and district races. Even Libertarians have a three-way race for Governor, which creates the real possibility of a run-off.
So if it sounds like you can't whiz in and out of your polling place in 30 seconds, you're right. Getting checked in will take more time than usual, and even if you've decided on how you want to vote in every race and on every issue, it will take time to mark your ballot.
You can put notes on your decisions in your pocket or purse and consult them while voting. But it is illegal to display or show them to anyone else at the polling place or within 300 feet of the ballot box (which now is an electronic scanning device). In other words, no electioneering in any way within the length of a football field of that device.
As they'd say on television, those are the headlines. Here are the details.
SQ 788—Medical Marijuana
A crucial point in this heated—sometimes violent—campaign is that this question, if approved, would create a law, not a change in the state Constitution. Proponents point out that they expect the Legislature to write laws implementing the question if approved.
Unlike a Constitutional amendment, the Legislature can also write laws to fix any defects which become clear if the question is passed and implemented. But if citizens approve the law, the Legislature's actions will be tempered by that vote not to meddle needlessly.
We are not making a formal endorsement, but we are voting for SQ 788 because our family has dealt multiple times with excruciating pain—from car crashes, transplants, cancer, open heart surgery as well as having close friends lose parents to suicide because they could no long live with pain for which there was no treatment.
Frankly, opioids are far more dangerous than marijuana. Yet that drug is allowed under proper medical supervision. For some it works well without a risk of addiction. For others, it is a death sentence.
The primary ingredient in the decongestant Sudafed and its generic equivalents is vital to the welfare of millions of people. But it also is a primary ingredient in the huge drug scourge methamphetamine, which is and should be totally illegal.
Yet Sudafed and its clones don't even require a doctor's written orders to purchase. But it can only be sold through pharmacies, and there's a statewide system to prevent sales of methamphetamine-level quantities to any person.
SQ 788 sets possession limits and, since pharmacies have generally opposed serving as dispensaries, has established possession limits and a licensing system for marijuana dispensaries.
So it isn't as if the state has no model for dealing with medical marijuana. And it isn't as if its use in dealing with severe pain and certain other conditions involving spasms and other serious disorders isn't proven.
SQ 788 opponents are primarily profit driven—law enforcement by being able to rack up fines and forfeitures for possession of small amounts of the drug; the private prison industry by having a steady stream of people to fill its beds; the so-called treatment clinics that too often are rackets that take money but provide patients little or nothing in return; and industry because marijuana residues stay in urine samples for weeks—providing an easy way to fire someone whose job would otherwise be secure on a whim.
The lies from that camp also have been insidious and shameful. SQ 788 would NOT allow smoking marijuana in any place where smoking tobacco is banned. That law is untouched, and it doesn't bar smoking tobacco, it bars smoking of anything—from dried leaves to marijuana to the dried materials from your baby's used diaper if you're that hard up.
And veterinarians cannot write an order allowing medical marijuana use. Their licenses prohibit treating any human patients.
There are religious, moral and other arguments involving both the use of certain drugs and the intentional infliction of pain. In some cases, they collide in deciding this question.
We urge you to ignore the slick ads and actually read the proposition in full. Also read the laws it supposedly affects, which can be found on the Oklahoma Supreme Court Network, www.oscn.net , in the legal research section under state statutes Citationized.
Democratic District 2 Congressman
In a four-way race, Jason Nichols is the clear choice. He has been a regular presence in Rogers County since long before most candidates admitted they were running. He has spent time talking to real people.
A sixth generation Oklahoman and member of the Cherokee Nation, he has extensive government experience where the rubber meets the road—as mayor and a city councilor in Tahlequah, where he graduated from high school and earned his Bachelor's and Master's Degree from Northeastern University there.
As a Cherokee, he's part of a far larger community in the Second District. His concerns are those of the outstanding everyday people who live here: Seeking bi-partisan solutions so the government works for our citizens; protect working class families from unfair taxes while the rich get richer; working to make education fair and affordable for our children, and being available to his constituents rather than being too busy catering to special interests.
Elijah McIntosh has run an energetic campaign and seems to have a solid platform, but has not had the combination of fire, ties and experience needed to regain this seat.
Clay Padgett hasn't lit much of a fire here. Virginia Blue Jeans Jenner's heart is in the right place but we fear her time has passed—and her clown costume, which she debuted at a memorial service for Will Rogers decades ago in Oologah—wore out its welcome a long time ago.
Republican District 2 Congressman
Incumbent Markwayne Mullin did a credible job until he flip-flopped and decided to seek another term after long promising he would not do so. He added to his woes by claiming at a public forum that the public didn't pay his salary because he as a businessman paid more than enough taxes to cover them. And then stressing that he's a businessman not a politician is another black mark, because he does seem to have some problems telling when promotions for Congressman Markwayne Mullin end and for Mullin Plumbing begin. 'Nuf said—we hear many former supporters say it is time for voters to let him retire.
As would be expected, his challenge—actually three of them–come from the right, not our favorite part of the political spectrum.
Of those, we believe Jarrin Jackson offers the best alternative. Having watched him grow from his tenderest years, we know he has a true understanding of and deep love for the Constitution.
His military service was exemplary and formed the basis for a popular series of newspaper columns for several years that gave a face to our soldiers, those they were protecting, and those they fought.
While we disagree with several of his positions, we are impressed that he is the only Congressional candidate we know who is willing to really drill into the issue of Social Security.
He has a four-point plan: Conduct forensic audits; find your money; return your money, and stop stealing it. There's been controversy for decades about whether there was ever a formal "lock box" for Social Security tax payments by workers and employers, but even the Social Security Administration admits that the money is to be handled as a Trust Fund used for no other purposes than payment of benefits and direct expenses for doing so.
However it admits that money not immediately needed is used to buy "special Treasury bonds that are guaranteed by the U.S. Government. A market rate of interest is paid on the bonds they hold, and when those bonds reach maturity or are needed to pay benefits, the Treasury redeems them."
I'm with Jarrin on this one: The words and names "flim-flam", P.T. Barnum, and Ponzi come to mind.
The other two candidates, Brian Jackson and John McCarthy, have not ben visible enough to make a strong impression.
The eventual Republican and Democratic nominees will face Libertarian Richard Castaldo and Independent John Foreman on the General Election ballot.
Democratic Oklahoma House District 6
Rep. Chuck Hoskin has represented the district with distinction for a decade and is term-limited.
But Democrats can nominate an outstanding successor, Dr. John Myers, a veterinarian, a veteran of the Vietnam War who still cares about those who have served, a Cherokee Nation Citizen and perhaps most important an avid advocate to return Oklahoma schools to excellence so we can return the state's economy to prosperity.
He's learned well from Chuck about the fact that as District 6 representative he may live in Vinita but he also is part of the communities of Oologah, Talala, Chelsea, Foyil, Sequoyah, Adair, Big Cabin, Bluejacket, Bushyhead, Ketchum, Langley, Welch and White Oak.
And if he's been to the other communities the way he has spent time here, the lesson has taken hold.
He understands what is different in each, and what we all have in common. It is hard to rank the four key planks of his campaign because all are vital, but we'll address education first:
• "Children are the hope of the future and the state's most precious asset. Join me is supporting our teachers, providing a safe and stable learning environment and promising all of our citizens a brighter tomorrow.
"I will be a fierce advocate for our children and teachers, ensuring they have the funding and tools needed to educate and give our children a chance to make our dreams come true.
"My entire family has benefitted from a public education and he knows that schools are the backbone of our rural communities. He will fight against school consolidation," he says.
He knows that this election is about public education, and his nomination Tuesday is the first step in putting quality education first in Oklahoma.
But he also has three other key concerns:
• Supporting increased rural health care options;
• Working to bring good paying jobs to Northeastern Oklahoma (which requires good education and quality health care), and;
• Providing programs for veterans (vital since the Claremore Veterans Center is just outside his district but serves many who live within it).
I am formally endorsing him, including a free pass to leave the district long enough to find his dream of the best onion rings in America. (He said in his recent Chelsea Reporter column that they've got to beat those at a famous steakhouse in Omaha he once visited.)
I've been there once too, and they are amazing—even by the standards set in Vinita, Claremore and Ketchum—but I think I have found some even better in Martin City, Mo. They (and the barbecue that goes with them) are so good that the place attracts choppers from Whiteman AFB 40 miles away with brass and soldiers who have won special honors.
Now, if building on Chuck Hoskins' legacy and meeting the richly justified demands for permanent proper funding for education isn't enough incentive, John, how about we'll throw you a victory party in Martin City.
His opponent in the primary, Randy McKinney, hasn't been seen much in these parts.
The victor will face Republican Rusty Cornwell in the November General Election.
Republican House District 8
First-term Republican Tom Gann has been a true embarrassment to the Inola part of Rogers County, Chouteau and Pryor in Mayes County and a piece of Wagoner County. His only GOP challenger is Carl Parson of Inola, who would be a big improvement—especially if you believe in public education (Gann has made clear he does not).
Democrat Darrell Moore has no primary opponent, but is already busy throughout the district and would be a gigantic step forward compared to either Republican.
Democratic House District 23
A rising star, Craig John Hoxie, is one of the two Democrats seeking this seat serving part of Catoosa as well as parts of Tulsa and Wagoner Counties. He was interviewed on national television as one of those who walked to Oklahoma City during the teacher protests last month, and speaks with courage and conviction about the importance of quality teachers and education for Oklahoma's future. Obviously, he knows how to put words into action.
He faces Stephen Frazier in the primary, and the winner takes on Terry S. O'Donnell, the only Republican to file. There are no Libertarians or Independents in the race.
Republican Governor
Again, we're not making any endorsements, but we are paying some compliments and urging you to avoid certain candidates whose rotting fish stench is overwhelming.
Former Oklahoma City Mayor Mick Cornett has a strong record, a willingness to show that properly implemented, carefully targeted taxes can have huge benefits and of knowing how to run a government bureaucracy effectively.
Our earliest introduction to Oklahoma City was in the '70s, when business brought me there regularly from Kansas City. I remember a two-day trip and when I returned the switchboard operator handed me my messages and said, "You look awful. You were only gone two days and you look awful." I replied, "I was in Oklahoma City for two days, which is like spending a month in Hell."
What a difference now. Cornett is certainly worth a very strong look.
Gary Richardson is flamboyant, daring, and speaks his mind. Those who've seen him in court or read his legal briefs also know he's smart, creative and does his homework. He isn't the traditional Republican and he'd certainly give state government a rag-doll shaking, but maybe that's needed.
Gary Jones was the surrogate for the incumbent when I ran for Corporation Commission in 2004. I've watched him mature as State Auditor and am sad he is term limited out. He took an office in shambles and has made huge progress in making it both open and effective—not just in unearthing scandals (and there have been plenty) but in providing practical advice for those who want to do a good job in government. His efforts to make huge volumes of information available on line, without having to file an Open Records request or pay a fee, should be a model for state government—and certainly one for the next governor.
If you like dark horses, Blake Cowboy Stephens is smart but has what common folks call horse sense. He has brought an excellent attitude and some good ideas to the table in the debates we've seen and, while probably not ready for the top job, is someone who should be on the short list of the eventual winner for a state position that will give him the experience and background to be ready in four or eight years. Meanwhile, his presence has been a pleasant surprise.
On our blacklist are Kevin Stitt, who is now the target of serious and well-documented allegations of lack of honesty in business as well as gender discrimination in employment; and Todd Lamb, who has spent his eight years as Lt. Governor running for the top job and contributing little or nothing to actually solving state problems. His daughter's endorsement was cute eight years ago, but it hasn't aged well, and his resignation from key assignments when the going got tough in governing the state, belie his claims of courage in the Secret Service and military.
We simply don't know enough about the remaining candidates to offer an opinion, other than to note that Dan Fisher has the best turnout of supporters or any candidate at debates we've seen or attended and also has strong backing from numerous church congregations.
Democratic Governor
No question here—Drew Edmondson's experience, name recognition, strong performance in multiple public offices, and ability to raise money from clean sources give Democrats a real shot at regaining the governorship.
That is not to say his challenger, retiring State Senator Connie Johnson, isn't a fine public servant. She simply hasn't been able to get her campaign in motion and lacks the statewide name recognition it would take huge amounts of money to gain. If Edmondson wins, she would be a superb choice for a number of different cabinet posts or other gubernatorial appointments that would let her display her skills on a statewide stage and be ready to win when the governorship is next open.
Libertarian Governor
Realistically, Joe Exotic, Chris Powell and Rex Lawhorn have no chance of winning the governorship but they have added an important dimension to the campaign.
Exotic (yes, he had his name legally changed and registered as a trademark) is best known as an entertainer specializing in animal demonstrations. But underneath his flamboyant outfits is a true love for Oklahoma, a sharp mind—and an even sharper tongue which in most cases its targets richly deserve.
He may need some polish, but not too much—it would ruin his authenticity. Libertarians—and their ranks are growing—need to watch him for future races. While all three candidates have shown flashes of promise, Exotic seems closest to being ready for prime time.
Democratic Lt. Governor
Anastasia Pittman is the clear choice here due to her outstanding record, experience and thoughtful approach to government and the needs of the public it serves. From our experience, she still remembers who serves who.
Republican Lt. Governor
I have problems with both Matt Pinnell and Dana Murphy—especially Murphy, who is into the "job hopping syndrome" where she runs for a new job before finishing her current one. In this case, the job is Corporation Commissioner, too important a position to be filled by appointment rather than a vote of the people.
I haven't seen or read enough about candidates Eddie Fields or Dominique DaMon Block to offer an opinion.
Republican Attorney General
If the filthy exchange of ads between appointed incumbent Mike Hunter and Genter Drummond haven't convinced you that neither is fit to hold this vital office, perhaps this will: Both have well documented hatred of the First Amendment values underlying the Oklahoma Open Meeting and Open Records act and/or holding public trials in public.
However, a third candidate has impressed us greatly—Angela Benilla of Glenpool. While public defenders are often despised because of those they represent, they often also can be heroes when they ensure that justice is truly served and police, prosecutors and judges remember that their jobs also are fair application of the law, not locking people up (which Oklahoma is very good at doing) with their eye on the next election.
They also learn to manage huge caseloads on a tight budget and to understand very facet of the law.
I was leaning towards endorsing her for the Republican nomination, but her closing comment at Saturday's debate televised statewide sealed the deal: She understands the importance of the First Amendment to protecting the future of the nation. She had been asked how she would deal with those issues and summed it up in 11 very powerful words:
"I think we need to have transparency across the board. Period."
All we can add is, "Amen!"
The winner of the Republican primary and run-off if there is one will face Democrat Mary Myles of Oklahoma City, who has an impressive resume but just officially launched his campaign last week since he has no primary opposition and no Independent or Libertarian filed for the post. I'll make an endorsement for the Office before the General Election, after the airwaves are clear of the flying horse manure between Hunter and Drummond.
Other races
Due to the huge ballots and two bouts with the flu during campaign season, we haven't been able to spend enough time studying the candidates in the so-called "down ballot" races (Superintendent of Public Instruction, Labor Commissioner, Insurance Commissioner, State Treasurer, and State Auditor and Inspector) to make intelligent suggestions. Those will come before the Run-Off Primary or General Election, as appropriate.
I have already endorsed Beau Williamson as the Democratic nomination for Oklahoma Corporation Commissioner. If you missed it, the complete text is below this column.
Those are our thoughts. You may agree or disagree, but I hope I've piqued your interest enough that you will do the most important thing you can for your future and that of your children, grandchildren, great-grandchildren and our amazing state: Please vote Tuesday.
Polls are open 7 a.m.-7 p.m. and to help speed up the lines, please take your voter registration card with you. If you've lost it, you must have a federal or state-issued photo ID (yes, a valid driver's license will work) that shows your name in a way that can be matched to the voter registration rolls.